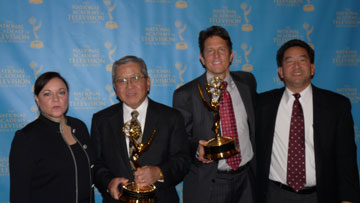 January 6, 2011, at the 62nd Annual Technology & Engineering Emmy Awards at the Venetian Hotel in Las Vegas, HM Electronics (HME) and Clear-Com (An HME company) were in attendance to receive their Technology & Engineering Emmy Awards. Clear-Com was recognized for the creation of The Belt Pack: Distributed Amplifier Systems in Live Production, while HME was awarded for the Development of the Wireless Intercom System.
Top right image: (from left to right): HME President Mitzi Dominguez; HME Founder and Chairman Harry Miyahira (and inventor of the Wireless Intercom); Clear-Com President and Managing Director Matt Danilowicz; and HME CEO Chuck Miyahira
receives Emmy Award for Clear-Com.
President of Clear-Com, presents Emmy Award.
President of HME, receives Emmy Award.