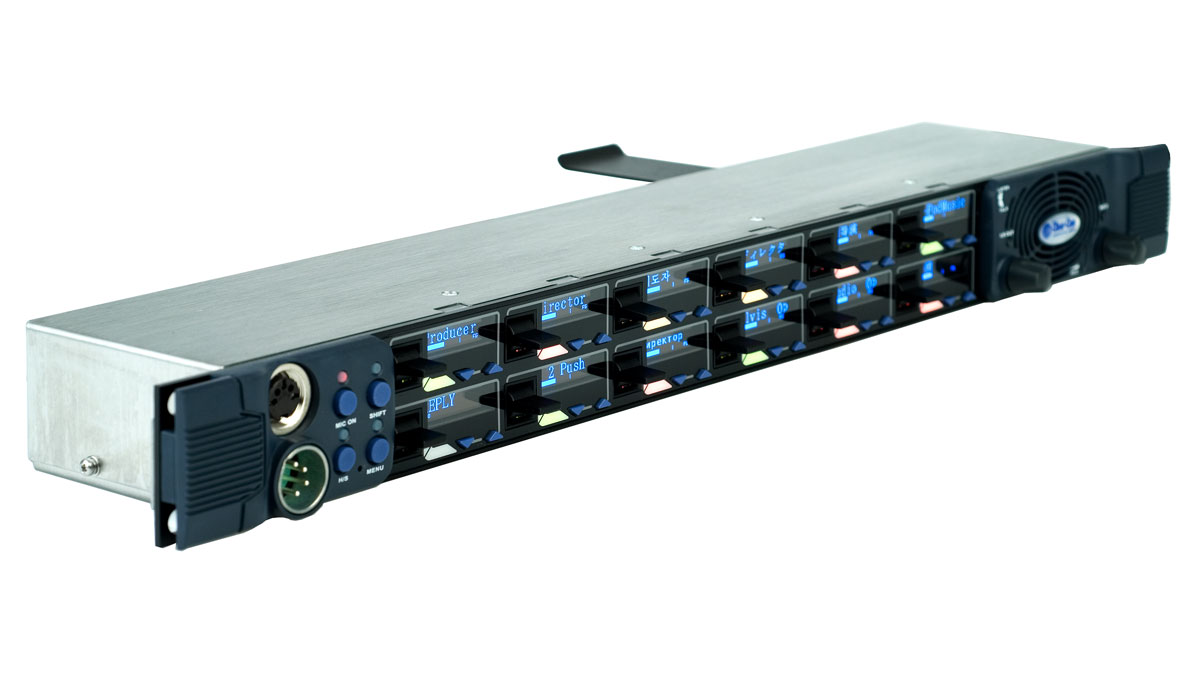 Leading Spanish TV production company using Eclipse and V-Series for live sports 
AMSTERDAM, THE NETHERLANDS, 11 SEPTEMBER, 2009 ─ Clear-Com® Communication Systems, a Vitec Group brand, is pleased to announce that Mediamovil TV, a leading Spain broadcast television production company, has outfitted its newest OB van with the Clear-Com Eclipse digital matrix intercom systems and V-Series user panels.  Mediamovil TV took delivery of Eclipse-Median and Eclipse-PiCo frames, along with the panels, to ensure reliable, easily expandable communications across its rapidly growing roster of live and pre-recording sports broadcast projects for the BBC, RAI, Canal Sur and TV3, as well as other major broadcasters.
The Eclipse and V-Series systems offer Mediamovil's busy staff increased connectivity and control options, helping them achieve tighter and more efficient production workflows for sports broadcasts and other projects requiring fast turnaround times.  The Eclipse Median and PiCo can accommodate a total of up to 148 users or positions, enabling Mediamovil the option to tailor the number of staff with access to intercoms according to the needs of each customer. The V-Series panels, meanwhile, enable remote access to the Eclipse systems in the OB van from other areas of a stadium or venue.
"We were very impressed with the Eclipse's expandability and ease of configuration," says Ramón Lage, Technical Manager, Mediamovil TV. "It allows us to adapt to customers' needs in any environment, a critical factor in our competitive business. With the Eclipse's ECS software system, we were easily able to expand our current intercom offerings, tailoring our configuration needs to each specific facility with no problems."
In addition to the Eclipse and V-Series panels, Mediamovil has a Clear-Com FreeSpeak® digital wireless intercom system from an earlier purchase. The Eclipse Median acts as a central switching unit from the OB van, linking users on the V-Series panels and FreeSpeak beltpacks with one another. The Eclipse Configuration Software (ECS), meanwhile, lets operators configure intercom connections on the fly, allowing them to further tailor their communications to the needs of a particular production.
"Mediamovil TV captures some of the world's most prestigious sporting events for its clients, and we're proud it chose our intercoms for its new OB van," says Oscar Mezquita, Senior Regional Sales Manager for Clear-Com.  "With so many variables in sports production, it's crucial to have reliable communication between all parties to ensure smooth operations.  We're glad we've been able to provide Mediamovil TV with solutions that make that happen."
Major features of the Eclipse digital matrix system include a robust E1/T1 telecom connection, fibre linking with intelligent switchover and AES digital connectivity to the V-Series panels for flexibility in OB truck applications.  The Median frame features up to 112 ports, while the PiCo has up to 36. Clear-Com's innovative V-Series panels add further flexibility with binaural listening, complete with the "Listen Again" function, which allows the user to replay the last 30 seconds of an incoming call.
Aicox Soluiciones, Clear-Com's distributor partner in Spain, facilitated the sale to Mediamovil TV, as well as provided additional support when necessary.