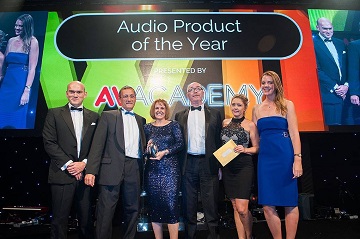 Wireless intercom system recognized by Audio Visual industry
Clear-Com®'s 
FreeSpeak II
 roaming wireless solutions collected the Audio Product of the Year accolade at the 17th annual AV Awards which took place at the Grosvenor House Hotel, Park Lane, London on Friday 25 September. The awards recognize the best innovations, concepts and talent across the Audio Visual industry.
"We are delighted to receive the Audio Product of the Year for FreeSpeak II," said Simon Browne, Clear-Com's Director of Product Management. "Since its release, FreeSpeak II has proven to be an exceptional wireless intercom for large-scale broadcasts and live productions, with outstanding integration, digital clarity and reliable wireless connection. It has been used in many high profile events and broadcasts, including the 2015 Academy Awards show, British Sports Award Ceremony, Grand Opening of Suez Canal, and Ceremonies at the Baku Games, and we're very proud of this recognition by the AV industry."
The Audio category of the AV Awards consisted of amplifiers, loudspeakers, digital signal processors, mixing desks, microphones, and other audio products or software. Overall, the judges looked for entries that demonstrated commitment to, and pursuit of, the future development of AV communications; achievements that benefit AV sector clients and users as well as the entrant; proof of benefit to clients; evidence of technical innovation and creative solutions to communication problems, just to name a few.
Judges' comments about FreeSpeak II included recognition that it was a, "solid product, well marketed", "[an] excellent product with some key innovative functions for use on the live event arena" and offered "[a] useful set of features based on a proven track record".
For more information about FreeSpeak II, go to https://clearcom.com/product/wireless/freespeakII