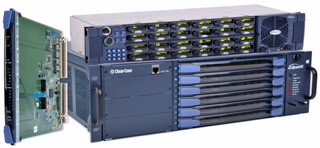 MADI and IP capabilities within the Eclipse HX-Delta digital matrix platform are key to meeting broadcaster's evolving workflows
The Eclipse HX-Delta digital matrix platform provides a reliable and flexible communications backbone for distribution of audio and data signals across thousands of users within an intercom system network. The system is unique in its ability to seamlessly integrate with IP-based software intercoms for remote users on virtual panels, and can intelligently trunk over CAT5, POTS, IP, Fibre and MADI without compromising in audio quality and performance.
"The Clear-Com system was chosen because it is flexible, easy to set up, and provides exceptionally clear audio quality even between remote locations. But above all, it is an extremely reliable solution," said Ray Bragg, Director, IPE.
The Eclipse HX-Delta system installed at each regional studio provides talkback to the news studios and satellite news gathering trucks. V-Series rotary control panels are also installed at ITV's remote bureaux in order to connect to the relevant main studio via IP.
"The MADI capability within the system has enabled us to connect directly to ITV's SSL audio desks, which is very helpful, and the IP capabilities are also key as several systems in the remote sites are IP-based," adds Bragg. "I've worked with the Clear-Com team many times over the years. They are always extremely cooperative with solutions to optimize workflow, and we work exceptionally well together."
"We have a longstanding relationship with the team at IPE, who have a solid knowledge and understanding of ITV's requirements ensuring successful installations across each of the ITV regions," said Damien Egan UK Regional Sales Manager, Clear-Com. "The Eclipse HX-Delta system consistently delivers exceptional system performance and its MADI and IP capabilities offer important options for customers with evolving workflows."