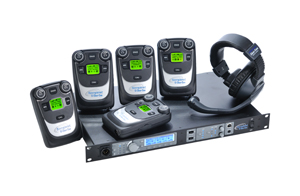 2.4GHz Wireless Intercom system offers interference-free communication
Alameda, California, April 20, 2009 – Clear-Com® Communication Systems, a Vitec Group brand, today releases its Tempest®2400 wireless intercom system at NAB 2009 (Booth C6521) for worldwide distribution. Tempest2400 operates in a license-free frequency band where it is fundamentally resistant to inference from other wireless devices, ensuring that communications go off without a hitch in even the most crowded RF environments. Ideal for touring productions, it can be operated indoors and outdoors.
By utilizing the 2.4 GHz Frequency Hopping Spread Spectrum (FHSS) in conjunction with TDMA technology, the Tempest2400 RF scheme avoids the need for licensing and frequency coordination. In addition, once registered to a base station, a beltpack needs no further configuration and roams freely within a single zone area, making it perfect for live sports, breaking news, and high-coordination productions such as awards shows.
Tempest also appeals to those finding it difficult to operate wireless equipment in the 470-698 MHz portion of the UHF band due to an increasingly crowded spectrum. "As it operates in the unlicensed 2.4 GHz band, it is unaffected by regulatory restrictions that inhibit the wireless communications in other frequency bands," says Chris Barry, Product Manager, Clear-Com. "Its simple set-up requirements also make it a tremendous asset to broadcasters covering live events."
Each base station supports up to five full-duplex, four-audio-channel digital wireless beltpacks; by stacking up to 10 base stations together, 50 independent, full-duplex wireless beltpacks can operate together in a single system.
Tempest2400 features state-of-the-art 2xTX Transmission Voice Data Redundancy, which sends each packet of audio data twice on different frequencies, and through different antennas, ensuring uninterrupted audio communications. It can interoperate with other Clear-Com intercom systems through four-wire and two-wire connections, as well as those from other manufacturers.
Other key features include the iSelect Roaming feature, which allows the beltpack user to move from one studio to the next and quickly switch to a different base station in the new studio. The T-Desk software, a powerful PC-based control and configuration application, offers the ability to monitor and manage the entire wireless system from a remote location via Ethernet connection to a LAN. T-Desk can also interface with a Tempest base station over a USB connection.
Additional benefits of Tempest include an optional remote transceiver that allows remote antenna placement up to 1,500 feet (450 meters) from the base station; data connection and power supplied over standard CAT5e/6 cable with ightweight, fast-charging Lithium Polymer (Li-Poly) battery technology in the beltpack; access to one of six relay closures from the beltpack and vibrating call alert. In addition, a flexible battery solution allows beltpacks to operate on standard AA batteries for emergency use; beltpack battery telemetry is displayed in real-time on the beltpack and base station LCD's indicating how much power is left in each pack.