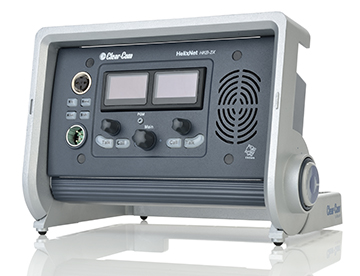 Clear-Com's HelixNet Speaker Station with S-Mount, has been presented with one of the broadcast industry's most prestigious technology honors, NewBay Media's Best of Show Award. The award was presented at the 2014 NAB Show in Las Vegas by TV Technology magazine.
NewBay Media's Best of Show Awards are evaluated by a panel of engineers and industry experts, and are selected based on innovation, feature set, cost efficiency and performance in serving the industry.
The winners will be featured in TV Technology, read by thousands of broadcast professionals in the United States, around the world and online. TV Technology is the industry's leading magazine for technology news and reviews and is celebrating its 30th year covering the television industry.
Only a small number of products were chosen for NewBay Media's Best of Show Award from among hundreds of new products in competition.
The S-Mount and Speaker Stations are both part of the HelixNet family. HelixNet is the industry's first digital network partyline intercom system and was designed as a digital version of Clear-Com's industry-standard analog partyline system, bringing simplicity, efficiency and a powerful set of intelligent features to those users who require a cost-effective digital communication solution.
The HKB-2X Speaker Station receives four channels of intercom communications simultaneously over a single cable, and is able to monitor all four and communicate on any two of those channels at any given time. The user can also receive and monitor a separate level-controllable program feed. It can be mounted in a 4-gang wall box or be used with the optional S-Mount enclosure.
The S-Mount is an attractive yet durable mount that enables the Speaker Station to be used in portable applications. It can be surface mounted or set as a desktop, enclosed and secure. The mount and display can be easily adjusted to different angles to better suit the user's requirement. It includes a DC Power connector and XLR-3M and XLR-3F Powerline Intercom Ports for easy connection; additionally it has the capability to be locally powered via an external power supply or use Power-over-Ethernet (PoE) connection.
"We are enormously proud of our Best of Show recipients," says NewBay Media Broadcast & Video Group Vice President & Group Publisher Eric Trabb. "Recognition with an award at the NAB Show from NewBay Media's Broadcast & Video Group is a strong vote of confidence and admiration from our leading industry publications."
Clear-Com's Chief Executive, Bob Boster says, ''We are all immensely proud of our HelixNet S-Mount Speaker Station, and to receive recognition for our hard work is always a great feeling. This just proves that Clear-Com are still the industry leader in the intercom market."