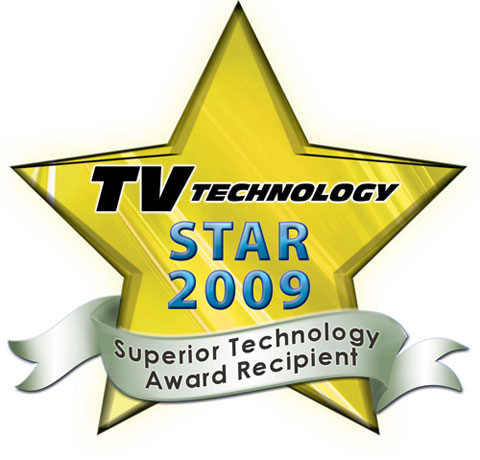 Las Vegas, Nevada, April 28, 2009 – Clear-Com® Communication Systems, a Vitec Group brand, proudly announces that its I.V.Core technology won a 2009 TV Technology STAR (Superior Technology Award Recipient) Award at NAB 2009. TV Technology's editorial staff presented the accolade in recognition of I.V.Core's game-changing set of building blocks and engines for powering real-time, dynamic and non-blocking intercom capabilities over a standard IP network, providing broadcasters a groundbreaking tool for realizing truly limitless communications.
TV Technology's STAR Award is designed to celebrate and showcase outstanding technological innovations available to the broadcast industry. At NAB, a panel of judges consisting of TV Technology editors and columnists reviewed a variety of products, examined the technical applications and their overall contribution to the industry, and then submitted their award nominees.
"Every year, the NAB show serves as the launching pad for thousands of new products and services for audio and video professionals," says Tom Butts, TV Technology Editor. "Our panel of editors walks the show floor in search of the most innovative technologies. The products and services that we select for the STAR Award make the cut – they demonstrate their ability to help advance the acquisition and distribution of entertainment and information across the media spectrum."
Clear-Com's I.V.Core comprises a series of building blocks and intelligent design engines that route only the audio actually needed, rather than all IP streams, optimizing the use of bandwidth within a modern IP network and thereby enabling broadcasters to affordably combine separate intercom systems into a common communications environment, among other applications. Along with the addition of noise reduction and proprietary error-recovery algorithms, the technology allows wideband codecs to be used where they would previously be limited by bandwidth constraints, allowing for a given Internet connection to support much higher quality audio.
"We are thrilled that TV Technology, a key arbiter of top technology trends for the broadcast industry, has chosen to honor I.V.Core with a STAR Award," says Matt Danilowicz, Managing Director, Clear-Com Communication Systems. "For us, I.V.Core is a major technological advancement for IP-based solutions, paving the way for ubiquitous, affordable intercom communications. We are gratified that TV Technology recognizes this."
The Clear-Com I.V.Core technology is embedded within the company's Concert 2.0 software-based intercom system, as well as the IVC-32 high-density IP card.