As I write this post, we are five months into 2021 and we are FINALLY starting to see light at the end of this very long and dark tunnel. Don't know about you, but I feel like life is on an endless loop, much like Bill Murray in the movie Groundhog Day and "I Got You Babe" won't stop playing. Lucky for many of you in the live industry, things are looking up and starting to change. Stadiums, theme parks and entertainment districts are opening up and people are starting to poke their heads out the door, in desperate need for some social distanced social interaction. For all of you who support these events, we are excited to see you get back to work and do what you love most!
As venues start to come back online, we thought it would be beneficial to share a few suggestions on how to manage your comms systems as it comes back online for that first big show.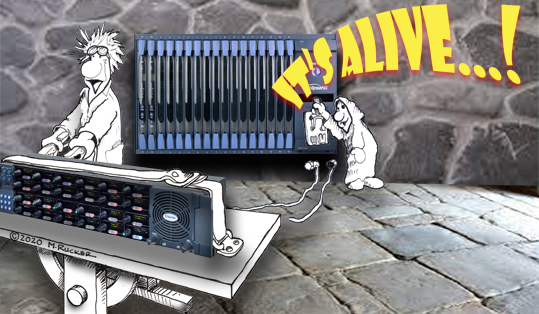 Clear-Com Encore® Analog Partyline and HelixNet® Digital Network Partyline
The Encore Partyline system is designed to power up and immediately work for the users. Do keep in mind, however, that if you hear echo in the line when talking, you may need to re-null the system. For directions on how to do this with a MS-702 or MS-704, please visit the manuals.
When it comes to your HelixNet Digital Partyline system, power it up and ensure that the main station isn't showing any errors. It would also be wise to walk around to the different HelixNet stations to ensure that each one is powered up and communicating with the main station. Depending on your configuration of the hardware, the Powerline should immediately start working and power each end-point. If your system is using Local Area Network (LAN) with Power-over-Ethernet (PoE), then you may want to ensure that each end point is powered up and the local IP switch is working. We have heard of instances where an IP switch has been powered up 24/7 for years on end, for it to fail after the first power cycle. If your HelixNet main station is connected to an analog partyline (like Encore) via 2-wire, you may want to consider re-nulling the line. Directions on how to digitally null a 2-wire line on the HelixNet system can be found here.
Eclipse® HX Digital Matrix
In a previous post, we discussed how it would be beneficial to shut down your Eclipse frame during times of long disuse. Though Clear-Com equipment, especially Eclipse frames, are designed to be continually active for years on end, it is always beneficial to shut down if not used for several weeks or months. It saves energy and reduces the chances of a power surge destroying a component. If you ended up powering down your Eclipse frame during the pandemic, there is a checklist for you to use during the first power-up of the system.
After boot-up, look at the CPU card and see if there are any errors
Once your EHX software is connected to the frame, push the most recent map back into the system with an "Apply Map with reset and clear all memory"
After reset, check audio communications on various panels and beltpacks
If the frame is older than 10 years old, check for battery warning messages* in the Event Log
*REMINDER ABOUT THE BATTERY WARNING MESSAGE:
If you were to remove one of the CPU cards on your Eclipse frame, you would find a small battery which is used to store non-volatile information. We have found that if your Eclipse frame is reaching the 10-year service mark, that battery could deplete itslef to a level that won't allow the CPU card to boot-up properly, This is usually not the case, but it is worth keeping in mind. Luckily, the battery can be easily replaced and for very little cost. See the Clear-Com Spares Price list or contact your dealer.
For facilities where the Eclipse frame was in a room where the climate-control or HVAC was turned off, it may be useful to take note of the humidity in the room during the downtime. The components used by Clear-Com and other manufacturers is not meant to withstand long periods of extreme temperature and humidity, so please be mindful of this issue.
FreeSpeak II® and DX Series™ Wireless Intercom
As is common with all wireless products, a battery's lifespan and ability to hold charge is dependent on many environmental factors. Here are a few examples on how you might have left your batteries before going dark in March and some idea of what you can expect.
Battery left in the beltpack or charger, but power turned OFF: As you should assume, the battery will do a self-discharge when not placed on a charger. The self-discharge of a LI-Ion battery is about 4-5% per month, so if a battery is left in this state for 6 months, it should have anywhere from 60-70% capacity left.
Battery left in charger with power ON: If you leave a battery in the charger, once it is fully charged (with the green light lit) the battery will start to self-discharge at a higher rate than listed above. Once the battery voltage drops by a certain amount, the charger kicks in and will do a fast recharge until the battery is again fully charged. Unfortunately, this can have a long-term effect on your battery since it is recommended that LI-Ion batteries should be stored at 60-70% capacity.
Prior to powering up you base for the first time, it is highly recommended to first install your wireless transceivers. Because the wireless system uses DECT to sync each transceiver, adding or removing a transceiver after the base is powered up will have a negative effect on the sync and not allow for proper connection of your beltpacks.
Once the transceivers are re-installed and the base is powered up, take a close look at the CCM and see if there are any errors popping up on the system. If there are, do another re-boot and look at the individual transceiver statuses to see what the issue might be. In the end, your system should come back up like normal and immediately start working.
We Are Here to Help!
As always, you will find Clear-Com's amazing support team standing at the ready as you power up your systems. If you have any doubt in your mind, worried about the power up process, or simply want to say hi, please don't hesitate to give us a call or send an email.
To learn how to maintain and do proper upkeep on your equipment during long periods of disuse, read this.
---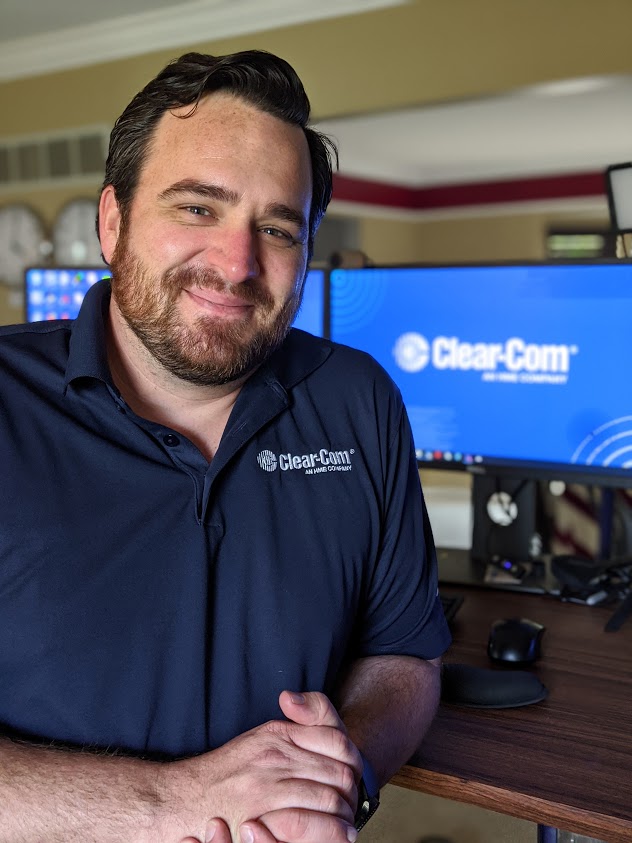 Justin Emge is the Applications Engineering Manager at Clear-Com. Previously, Justin was a Broadcast Engineer, Technical Director, News Photographer and Operations Manager for the CBS Affiliate in St. Louis, MO. He also worked laterally with Kaufman Broadcast as a Broadcast Engineer during large sporting and news events. Justin oversees the Application Engineers for North and South America.
Go Back