Federal and State governments consider construction an essential business and therefore projects were allowed to continue during shelter in place orders. But that doesn't mean that these projects were exempt from social distancing practices. A combination of wired and wireless devices can greatly enhance the safety of any operation. Users who need to be mobile can take advantage of wireless beltpacks or All-in-One headsets for hands-free, duplex communication. Users who can remain stationary utilize wired beltpacks to manager their job sites. Workers are not only able to practice social distancing with a dedicated intercom system, but the inherent work efficiencies and physical safety clear communications brings to a typical construction project are extremely valuable.
Safe Distance – Workers don't have to yell or crowd each other to try to understand what the other is saying on construction sites.
The system gives users the ability to clearly communicate to a large group of team members abut a contamination issue or emergency.
Limit the area where a worker needs to travel within the facility. Eliminate employees walking around looking for superiors to get verbal approval for production issues, work-arounds or advice. It all can be done over an intercom system – and without large scale movement.
Hands-free, duplex communication between users keeps people safe.
The ability to wear devices of varying form factor to fit communication needs based on position of job function increases efficiency and safety.
Application Notes
The Clear-Com DX410 system functions on a 2.4 GHz band and users an adaptive frequency-hopping mode to avoid interference from Wi-Fi. With up to 15 endpoints, the system can provide communication access to a large group of users. BP410 beltpacks connect to a range of headsets, including under helmet, to match the needs of the end user. The WH410 All-in-One headset eliminates any wires or cables which could be a hazard around moving equipment. Additionally, the base has 2-wire connection points where an Encore analog partyline system can be attached to further the system footprint. Overall, the system is extremely easy to configure and can be up and running in a matter of minutes.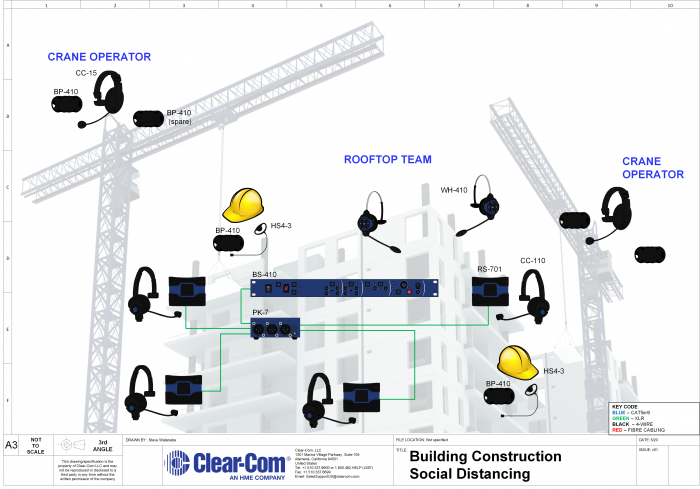 Featured Products used in this Application:
Go Back