Cruise ships are an engineering feat and an entertainment marvel. It's a floating hotel that averages 3,000 guests and 1,000 staff members. But it doesn't stop there, with theaters, live stage performances, multiple pools, restaurants and bars, gymnasiums and kid's entertainment zones it's a lot to handle for management. The communications systems necessary to manage these productions are critical – wired systems utilizing network connections work well and are easy to install in a ship heavily outfitted with the latest IT systems. But wireless capabilities also have their place. Larger performances on stage or in theater rely on individuals who need to be mobile. Other personnel throughout the ship may also need to move unhindered with a wireless communication. The structure of a cruise ship makes it perfect for the FreeSpeak Edge™ 5 GHz wireless system.
How It Works
The system relies on reflection to propagate the audio signal from transceiver to beltpack and back. With multiple decks and levels, a cruise ship is a prototypical environment for FreeSpeak Edge.
Application Notes
The 5 GHz FreeSpeak Edge system runs off an Eclipse®-HX matrix frame running EHX-version 12 with an E-IPA Audio over IP (AoIP) card. Within the very wide 5 GHz band, there are several channels available for communication depending on the country you are in – communication outside a mandated frequency channel is illegal. The EHX system allows you to create and save system configuration maps which would include the allowable regional frequency channels to be applied to the transceivers. The beltpacks follow the transceiver settings automatically. Prior to arriving in a country, the IT staff just applies the saved map for that respective region. The inability to apply new frequency channels prior to arrival can result in a significant fines from the respective country's authorities. Transceivers are IP capable and can be run directly off the central matrix frame or via a PoE switch with 1GB ports I/O. Based on the system's site survey, transceivers are placed strategically around the cruise ship for the best coverage and expected user density. Up to 10 beltpacks per transceiver can be used with a total upward limit of 64 transceivers and beltpacks. Up to 10 beltpacks per transceiver can be used with a total upward limit of 64 transceivers and 64 beltpacks. V-Series Iris panels are positioned fore and aft of the ship to allow management to contact specific wireless team members at a given production.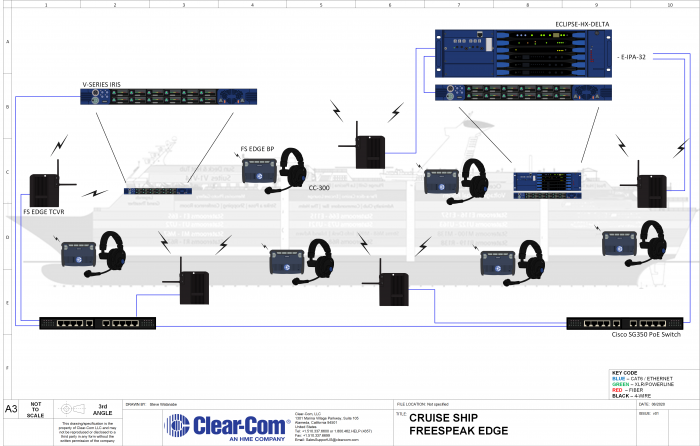 Featured Products used in this Application:
Go Back