When his mother offered him the choice of bagging groceries or working as a flagman on a construction project, 15-year-old Jay Wallace chose to put on a suit and tie and got himself a job as the projectionist at a local TV station. Working his way up the ladder doing studio camera work, audio, and control, Jay was directing the news by age 16, and well on the way to buying his first car. The rest is history, as they say!
Jay's first contact with Clear-Com was through Ed Fitzgerald, and it wasn't long before Michael Rucker was calling him to offer him a job covering West Coast sales for the company. While Jay's background and interests make Broadcast and Live markets a natural fit, he thrives on the fact that his work allows him to learn about so many other industries, such as medical or aerospace. Now with a recently expanded region that extends from Cape Horn to the Northern Territories of Canada, Jay has found a position that allows him to travel as much for business as he does for pleasure.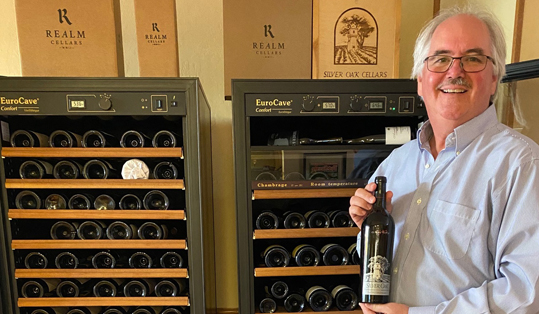 What's your most unusual tradeshow story?
NAB Atlanta – 85K Broadcasters and 100K Deadheads all together in the same place! Tye Dye and business suits!
If you were able to have dinner with one person, who would it be and why?
Anthony Bourdain – who better to have dinner with than Anthony Bourdain?!
What's your favorite meal?
Kari Eythorsson always takes me to the most unexpected and fantastic restaurants in the dark and dreary areas of LA during NAMM, so those are always remarkable, but my most memorable dinner was a K-Pauls in New Orleans. After dinner, I complimented Chef Paul Prudhomme and ended up having coffee with him while he signed cookbooks. And I can't forget to mention my brush with fame – the time Rob Lowe picked up my bar tab at the Capital Grille in DC where they were shooting episode one of the West Wing.
Dream Vacation?
I am so grateful to have been so many wonderful places already, but still on the bucket list is a cruise around Antarctica to see Patagonia.
What is the last book you read?
Last Best Hope, by George Packer – very thought-provoking and supports a deeper understanding of my fellow Americans.
First Concert?
Jethro Tull in Houston in 1977, then Texas Jam in Dallas – the opening band was a little band called Van Halen.
If you didn't end up in this industry, what other career path would you have pursued?
Law school – love the debate.
What advice would you give to people just starting off in the industry?
Never undervalue yourself. Don't take unpaid interships – if you're working, you should get paid.
Anything else you want people to know about you?
I live 35 minutes from the front door of Domaine Carneros, and it's one of the main reasons I love living in the Bay Area. Along with wine, I love big dogs, British automobiles, and multi-course tasting menus.
Go Back