Born and raised in Essex, in the South of England, I had an unusual claim to fame – I've only ever owned two houses. I prefer to settle down and not move around too much – work has provided more than enough travel.
I have specialised in production intercom and talkback solutions since joining Drake Electronics in 1989, working as a field service engineer before moving to the proposals and the sales divisions. After 10 years with Drake, I was approached by Trilogy Broadcast to join them as they were developing their first matrix-based intercom system. Then, in 2016, Trilogy was acquired by Clear-Com and my role has now evolved into supporting the EMEA teams as Senior Systems Consultant for both brand lines.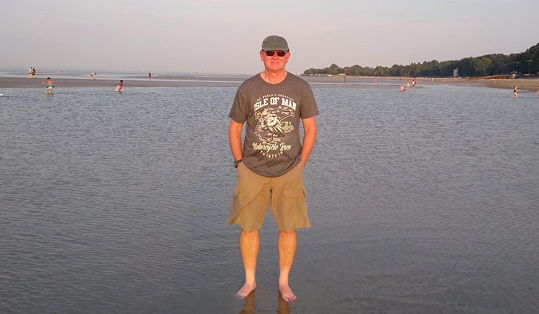 In my spare time, I support my local community radio station as an engineer, radio presenter, and vice chairman. I also run the live OB events for the station. If there is any other spare time, I enjoy riding my motorcycles, tinkering with mechanical projects, and spending time with my two grandchildren, Ollie and Em.
Career Highlight:
I've been lucky, in a way, to achieve continuity in expertise by working with Drake, then Trilogy, then Clear-Com – which has put me back in touch with many of my old Drake colleagues! I recall being told by an agency that I had to widen my experience out of intercom to survive, well…so far, so good!
Advice to Young People Entering the Industry:
I've had a lot to do with young people in general, having volunteered as a Scout Leader for 6 years, and mentoring young people through training at the radio station. Working on Rise Up recently confirms that young people are interested, given the chance, to join our fascinating industry. They just need our support. Ask for the help and the support.
Favorite Places to Visit:
Ibiza! I just love the island, although I wish i was a bit younger to be able to go clubbing! I've made many visits to Seoul, Korea for business and I just love the vibe.
In Another Life, I Would Be:
A cool DJ in Ibiza with a motorbike (or two or three) and able to hop off anywhere in the world I wanted to. With the same family life, of course!
Go Back