Jonathan Sorensen was in his second year of college when he realized he was interested in behind-the-scenes work. Although his school didn't offer a major for this type of work, there were plentiful on-campus jobs that allowed him to explore this interest. At one point he held nine on-campus jobs, all relating to behind-the-scenes production in theater, television, radio and recording studios.
When Jonathan started looking for a new job after deciding to move closer to family, it only required an afternoon drinking coffee with Justin Emge to be convinced that Clear-Com was the next step in his career. The opportunity to focus in on one area – comms – was very appealing, along with the range of different people he would be assisting over the course of his job. From rocket launches to sports broadcast to Broadway, intercom is an integral part across many different industries.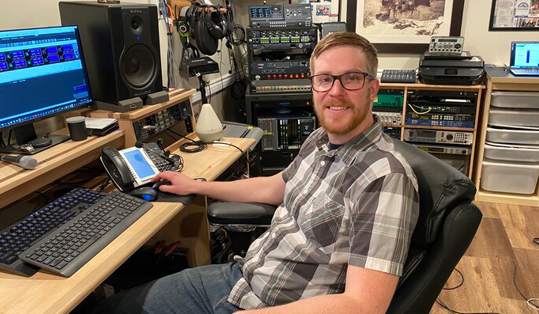 What Keeps You Going?
Constantly discovering new ways to do things – no system or customer use of a system is the same. Every job I'm assigned to, I'm walking into a challenge. Another cool part of this job is that having spent time at the manufacturing facility in Carlsbad, CA, I know where the product originated – I know the exact bench where it was made, and I've even met the person who shipped it out. That's so cool!
What's the Most Heroic Thing You've Done in the Course of Work?
Rom Rosenblum and I did a week at a theme park working looooooooooonnnnnggggg overnights on a parkwide upgrade on all comms systems, then stopped in Vegas on my way home to troubleshoot at a network, then repacked my bags and headed back out…..
Favorite Meal When You're on the Road:
Any meal shared with coworkers.
Favorite Hotel:
The Marquette Hotel in Minneapolis. That one is really nice!
If You Could Choose Any One of Your Colleagues to be Stuck on a Deserted Island with, Who Would it be?
Rom Rosenblum – You know why if you've met him.
Most Prized Possession in Your Home Office:
Avalon VT 737 – microphone preamp. Of course, with a U87 on it.
Go Back