As a child, Joquebed Colin Lugo would spend Sunday mornings flipping through her parents' encyclopedia set, dreaming of places she wanted to visit. Her work as an engineer and sales has allowed her to travel the globe. Her career began as an Audio Engineer for Televisa in Mexico, later moving to the UK to work for Drake as an Applications Engineer and was eventually transferred to the US for Clear-Com. In 2006, she and her husband moved to Long Island, New York, where they first met, and where Joquebed remains based today. Joquebed has been the Regional Sales Manager for Latin America for Clear-Com since 2013, most recently adding Brazil to her territory in 2019.
A love of dancing of any sort has been a constant in her life and she is currently enrolled in African dance. Swimming, gardening, hiking, and spending time in nature are other activities which Joquebed enjoys, most importantly the feeling of connection to the natural world.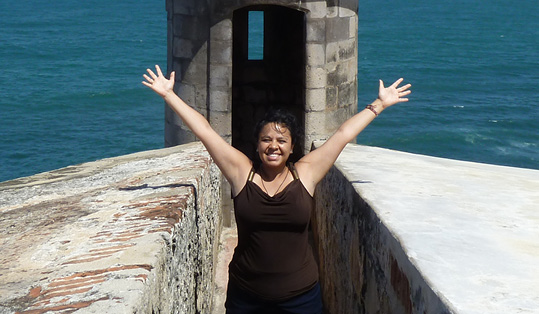 Career Highlight:
One of the perks of this industry is that we have access to special events, concerts, theatres, etc. In 2010 I had the opportunity to work on the bicentennial celebration of the Mexican independence. I was part of the crew located on floor 17 at Torre Latinoamericana in Mexico City, the first skyscraper in the city, where the master for the broadcast production was temporarily installed for the event. The whole thing was an all-encompassing experience as they pulled equipment and personnel from many different broadcasters and companies just days before the event. Clear-Com collaborated with equipment and support, and I was the lucky Applications Engineer assigned to the project.
Advice to Young People Entering the Industry:
Not to be afraid, not to give up. If you have a dream to be in this industry, don't give up. You will have to work really hard, there may be obstacles, but never be afraid to try and to fail. Never give up.
In Another Life I Would Be:
An Archeologist
Favorite Book:
Aztec by Gary Jennings. I have always enjoyed history and archaeology, including a special interest in time travel – something that seems especially attractive right now! I read in both English and Spanish.
Favorite Places to Visit:
The sea, any coast in the world
Archaeological sites and museums
Nature, mountains
Favorite Meal:
Pulpo a la gallega, Galician octopus
Favorite Hiking Spot:
The Catskills region in New York
Last Movie I Saw in a Theatre:
Parasite
Go Back