For smaller sports arenas used for basketball, hockey or concerts, it isn't necessary to have a large number of system endpoints for a given production. With a trend of having fewer people doing more work in production roles, it is vital to have the ability for users to roam to areas where they are needed. The FreeSpeak Edge Base Station provides the versatility of employing multiple bands of wireless capability along with legacy 2 and 4-wire connections. Additionally, the base station provides connection capability to both Dante and AES67 devices through the Dante Controller. Adding 3rd party devices to the existing intercom mix makes the FreeSpeak Edge Base an incredibly flexible tool all within a 1RU box.
Application Notes
The FreeSpeak Edge Base provides wireless capabilities in the 1.9GHz, 2.4GHz and 5GHz bands to give the user great flexibility. In the main arena, 5GHz Edge beltpacks are used as reflection off of the interior of the building help propagate the signal. A 2-wire analog Encore Mainstation is tied to the Edge Base for static positions or announcing.
In the studio, FreeSpeak II 1.9GHz beltpacks are used to provide communication for any broadcast needs prior, during or after the game. Additionally, Dante devices in the control room provide program audio for the studio team, court-side team or any additional talent needs.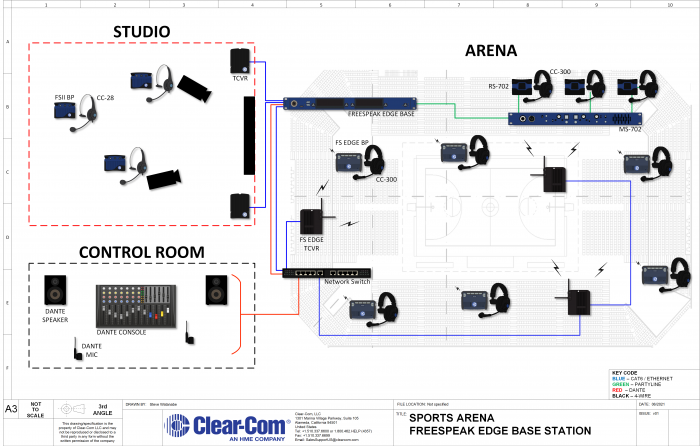 Featured Products used in this Application:
Go Back