CC-300 Headset
Headphones are the bane of my existence. They are hot and uncomfortable. They also make it hard to hear what's going on in the background and they mess up my hair!

I had read rave reviews about Clear-Com's CC-300 single-muff headset in a publication and heard that it was "different" from other headsets. So, when I was offered the chance to try the CC-300 headset, the opportunity to test the one ear free style quickly grabbed my attention.

The first time I broadcasted a "Geek Girl" segment wearing the Clear-Com's CC-300 headset, I fell in love with it.  Everything I hated about the old "cans" was gone!  The CC-300 is lightweight and comfortable. It allows me to monitor what's going on in the studio and my hair gets less messy than when I use other headsets.

The biggest advantage though, is the clarity and depth of the sound that I hear.  Even in the usually chaotic broadcast booth, I can keep track of phone call-ins and where I am in the queue.  There is no more wearing of a headset with one ear-muff turned up, no more asking "was that my call-in?" and no more headaches from the pressure of an ill-fitting headset.

Usually, when a review is over, the product gets donated to a community entity, but this time, I'm being selfish and keeping the CC-300 headset for myself to use during Geek Girl shows.  That is the highest praise I can give!
Judith Rogow
Judith Rogow is the Producer of "Geek Girl" on the KKYT radio station (The Coyote 93.7).
Find out more about why the CC-300 is so outstanding here:
>CC-300 product information
>CC-300 gets a rave review in Church Production Magazine
>Geek Girl Interviews Bob Boster about CC-300 Headset (Podcast)
Find out more about the KKYT radio station:
>www.coyote395.com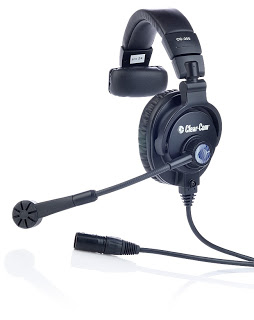 Go Back