Clear-Com's FreeSpeak II wireless intercom system and Eclipse HX digital matrix system are supplying critical communications for a major space agency as part of a simulation of the weightless conditions of space to train international astronauts.
The facility features a six million gallon pool larger than a football field. The trainee astronauts' space suits are connected via tubes and cables to the poolside tender positions for their air, medical telemetry and communication needs. They all connect via standard 4-wire connections, with line-level inputs and outputs to a matrix port in the main control server room. The Clear-Com installation enables the team to coordinate between the Control Room simulations, the Dive Boss' station, the medical team, and the technical coordinators, reliably and clearly.
While FreeSpeak II's 1.9 GHz model has become popular for keeping communications away from other frequency traffic, the deployment of Frequency Hopping Spread Spectrum (FHSS) technology as well as recent Clear-Com innovations means that 2.4 GHz wireless systems are becoming more attractive. The FreeSpeak II 2.4 GHz model has been chosen for these training facilities because of the redundancy transmission of the FHSS scheme, which helps with the immensity of the room and the reflective nature of the poolside interior and the huge water surface.
The FreeSpeak II installation features an array of transceivers spread across the required coverage area. Each transceiver can service up to five beltpacks, and the beltpacks hand off seamlessly from one transceiver to another as the users move about. By using the matrix integration card option, any intercom panel in the facility can talk directly with every beltpack user, and vice versa.
The award-winning audio clarity of the FreeSpeak II wireless system makes for crisp and clear communications in environments where it's most vital, such as simulations of space.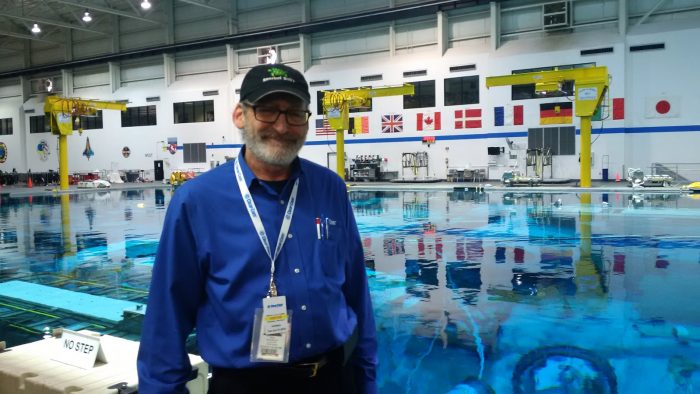 Go Back