Some Performance Arts Centers and Operas are cavernous facilities with tens of thousands of people all excited to see a recital or concert. Others are smaller theaters but with layered decks and balcony's to get the audience as close to the performers as possible. All these levels make a perfect communication scenario for Clear-Com's new wireless communication system.
FreeSpeak Edge™ uses the 5 GHz band to carry audio between transceivers and beltpacks. The audio is propagated through the reflection of the signal off of all those odd angles common in large performance facilities. This makes for precise, low-latent audio communication throughout the center.
Application Notes
The FreeSpeak Edge system runs off an Eclipse® HX matrix frame running EHX-12 with an E-IPA card. Transceivers are IP capable and can be run directly off the frame or via a PoE 1GB switch. Channels within the 5 GHz band are assigned specifically to the FreeSpeak Edge system to allow for complete wireless reliability and kept free of any Wi-Fi interference. Based on the system's site survey, transceivers are placed strategically around the arts center for the best coverage. Up to 10 beltpacks per transceiver can be used with a total upward limit of 64 transceivers and beltpacks. An Encore® analog partyline system is added to the deployment for users who are in stationary positions such as lighting. V-Series panels can also be added to the audio solution for producers and directors who may need to speak to individual team members on a one-on-one basis.
Featured Products used in this Application: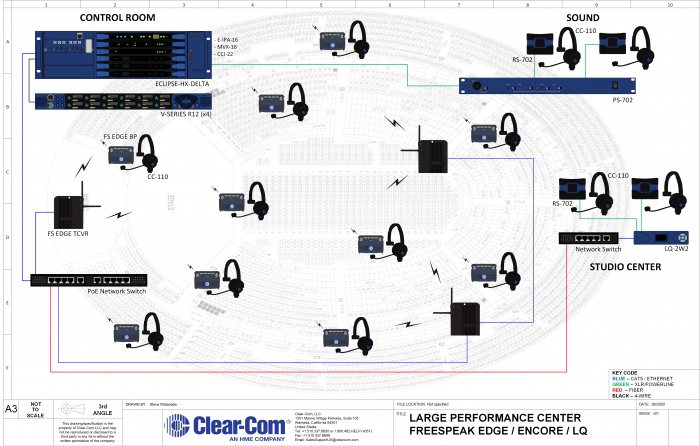 Go Back