In many manufacturing facilities, there is a level of noise and interfering machinery and structure that makes it difficult to communicate between workers. This can be problematic not just between two workers, but within a large manufacturing group. Several times a day, a Production Lead may need to gather everyone together, or try to speak to each worker individually to provide production direction. Roaming a loud and congested facility trying to find specific people is a significant inefficiency, and now made worse in a scenario where workers need to socially distance because close communications has become a potential health risk.
With a wireless duplex communication system, workers are able to speak with each other hands-free at a distance. This eliminates unnecessary movement for a Production Lead and removes the need for workers to shout at each other in loud areas. Of greater benefit, is the ability to seamlessly implement an acceptable social distancing manufacturing practice.
The duplex system allows a simultaneous talk and listen function to be latched on – any user can talk and listen at the same time as any other. This eliminates the two-way radio "step-on" situation where only a single user can talk at a given time. Each headset has the receiver/transmitter, battery and button functions all on the headset, removing any danger of wiring getting caught in machinery or clothing. Users may move up to 500′ away from the system base station giving incredible range to any necessary travel.
Application Notes
The DX410 base station allows up to 15 users to roam wirelessly throughout the system area (500′ range). With wireless delivery technologies like adaptive frequency hopping and lost packet concealment, the base station is able to consistently deliver high quality 7kHz audio over the license-free 2.4 GHz band. Up to four base stations can be daisy-chained together to form a group of 60 users. The WH410 All-in-One headset provides users with hands-free communication for up to 20 hours of talk/listen time.
The LQ Series of IP interfaces provides users with a Swiss Army knife of capability. In this case, the LQ-4W2 takes 4-wire intercom audio from the DX410 and converts into IP audio to be sent through a local network. Once on the network, audio is pushed to wireless routers and an IP PBX for third-party communications. The LQ device manages up to eight licenses for SIP (VoIP) and Agent-IC mobile app. The Agent-IC mobile app can be configured to manage several channels within an intercom system – the app functions on the majority of iOS and Android mobile devices.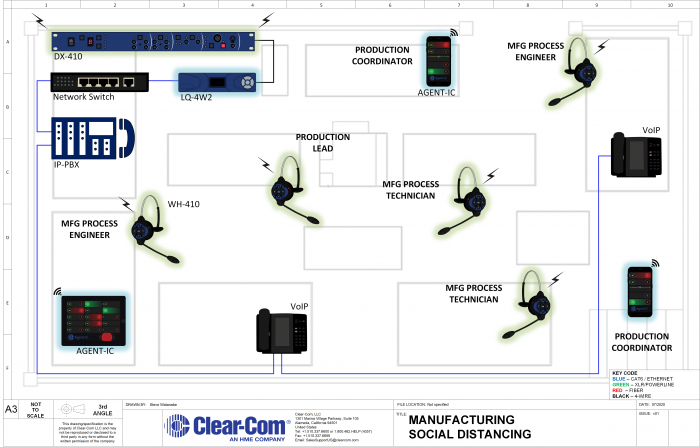 Featured Products used in this Application:
Go Back