Andøya Test Centre (ATC) has just confirmed successful completion of its latest test campaign following a major refit and upgrade to its facilities which now include a range wide communications system from Trilogy, the leading supplier of voice communications systems for the defence and industrial sectors.
ATC, located on the island of Andøya, 2 degrees north of the Arctic Circle, in northern Norway, offers a virtually unlimited area for the testing of aerospace and ship-based applications such as surface to air, air to surface, subsurface to air or surface to surface including missile tracking and guidance systems.
The Trilogy system addresses a number of challenges which include the integration of communications from military and civil, air and maritime radios and a range of other devices. With an integrated subsystem, ATC is able to access all of the assets used on the range at any given time, and from any of its operator locations.
The system consists of a number of elements: the range control site; three deployable instrumentation nodes, a telemetry node and the customer suite. These are connected together using IP via a microwave link allowing all voice traffic including the radios to be passed between locations.
Range control is situated on high ground near the main facility and is equipped with Mercury Interface Units and communication panels. It also incorporates a third party IP voice recording system and a selection of Jotron military and civil UHF and VHF radios.
The customer suite is located at the main facility and allows ATC's clients to monitor all aspects of their tests. Once again it is equipped with a Mercury Interface Unit and communications panel.
The telemetry node utilised a Mercury USB device connected to a laptop in a TEMPEST approved location to offer communications via an operator panel back to the other system elements.
The final elements of the system are three deployable instrumentation nodes, located in strategic positions on the range to cater for the specific test and flight paths. Once deployed, the operators connect to the other elements of the system using Trilogy 16 Key operator panels in each of the nodes.
As well as the sophisticated voice communications functionality, the system offers innovative features that normally require the installation of dedicated subsystems. For example an emergency broadcast function is provided which allows an MP3 warning siren to be played out from the Trilogy system to all of the operator positions through both their panels and associated loudspeakers.
Another unique feature of Mercury is its ability to pass GPIO/logic information across the same IP network as the voice traffic. ATC use this to control Red Light / Green Light indications from each of the instrumentation nodes back at the range control site, ultimately giving a dependable indication of when everything is in place for a test to commence. Each location has a Go / No Go button and the main control site has a bank of lights so a simple, immediate and visible indication is available rather than a series of radio/intercom calls to establish the same information.
"The Trilogy system has performed flawlessly and I have received good feedback on the functionality, overall, I must say that is has been a success." said Torgeir Aag-Nilssen, Staff Engineer Electronics, Andøya Rocket Range. He continued "Our first campaign went off so well we even managed to finish in time for a group of us to visit the US and the International Telemetering Conference."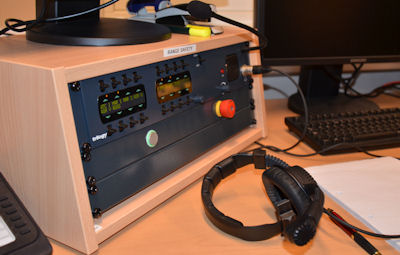 About Trilogy
Trilogy has supplied audio communications equipment to customers in more than seventy countries since 1986. The company was originally formed to design and build video and audio infrastructure equipment for the television and radio broadcast industries. It continues to serve this market but now also offers its products to a wide array of customers in defence, emergency management, training and simulation, oil & gas and other industries.
Trilogy has achieved a compound growth rate of over 20% over the past 4 years and hopes its success in the 2009 Queen's Award for Enterprise will spearhead activities over the coming years. Trilogy counts some of the world's best known names in defence and broadcast among its customer base. These include Northrop Grumman, Raytheon, L3, Lockheed Martin, SAIC, BAE, Teledyne, BBC, Sony, CBS, Hearst-Argyle, Radio France and others.
About Andøya Test Centre (ATC)
Andøya Test Centre can offer a virtually unlimited test area for testing of aerospace and / or ship-based applications. We have the ability to conduct a wide range of operations, both civilian and classified military.
Our 50 years of experience in the field is a significant factor for mission success, even for high risk applications. Typical applications include:-
Testing and Verification
Aircraft / UAV / Aerospace systems
Sensory systems
Missile tracking
Guidance systems
Rockets / Missiles / Ordnance
Surface to air / Air to surface
Subsurface to air
Surface to surface
Static firings
Ship-based weapon systems
Exercises
Live firings
Target practice
As a fully owned subsidiary to and co-located with Andøya Rocket Range (ARR), ATC is an organization that draws upon the experienced manpower, infrastructure, instrumentation and administration of ARR.
For more information about Andøya Test Center, please visit www.testcenter.no
Go Back