Describing FreeSpeak's latest addition to the wireless product range in the words of the iconic 70's disco act, Sister Sledge, "I Got All My Sisters With Me". Each application has its own specific needs and circumstances, and there are often additional deployment challenges created by the location itself. Indoors or outdoors, there will be new elements to consider, often right up until showtime.
Clear-Com has developed a substantial knowledge base of real-world wireless challenges, thanks to collaborative feedback from a highly skilled and diverse user base. Input from a wide range of applications for the FreeSpeak II Digital Wireless Intercom Systems provide some valuable input relating to which problems still needed to be solved in the most complex environments.
In a quest to improve performance in advanced applications and large-scale deployments, Clear-Com engineers explored the promise of the 5 GHz band for the development of the FreeSpeak Edge Digital Wireless Intercom System. In addition to elimination of multi-path issues, multiple power attenuation and increased interference avoidance, the extra bandwidth and wider frequencies within the 5 GHz range would help guarantee low-latency transmission and allow for higher-quality 12 kHz audio.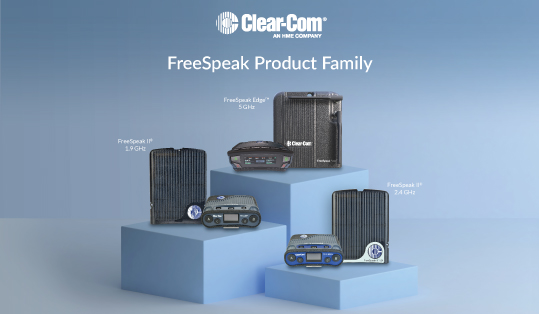 First, let's look at multi-path. Because of the way 5 GHz works and the OFDM coding it uses, the data speed is so fast that any modulation and signal interference from multipath really can't do significant damage to the symbol rate. That means the recovery of 5 GHz signals from multipath interference is extremely good. So good, in fact, that Clear-Com's field tests in large venues well-known to be especially problematic for wireless were showing that a single FreeSpeak Edge transceiver was enough to provide continuous audio over a significant area without any artifacts.
Additionally, another major challenge in wireless intercom, interference from Wi-Fi and other wireless operators working in the same bands, could also be dealt with using FreeSpeak Edge's 5 GHz frequency coordination capabilities.
Now, let's talk about range, and how the whole FreeSpeak product family can solve problems there. It's true that 5 GHz devices typically have a shorter range compared to 2.4 GHz. That's where the FreeSpeak family could be deployed for maximum benefit. Use FreeSpeak II for large-venue coverage and then rely on the tight signal-focusing capabilities of the 5 GHz FreeSpeak Edge to handle higher-density applications like the red carpet or any area where lots of operators are working side by side.
With FreeSpeak Edge, Clear-Com has added another band to its FreeSpeak product family, tailoered specifically for larger deployments of high-channel-capacity beltpacks and applications where users want to do their own frequency coordination. FreeSpeak Edge and FreeSpeak II systems can be combined to scale up and handle the largest productions. Users can select which systems work for complex and varied applications, creating a single system that exists on all three frequency bands – 1.9 GHz, 2.4 GHz, and now 5 GHz.
With the introduction of FreeSpeak Edge, Clear-Com can happily say "Get Up Everybody and Sing". Now all the players from the 1.9 GHz, 2.4 GHz and 5 GHz ranges can harmonize beautifully to keep the dance floor moving.
Go Back